FAMILY BIBLE WEEK 2021
JUNE 6-9
2021 Keynote Speaker: Steve Balvanz
Steve and his wife Maureen have been married 34 years and have six children and seven grandchildren. He has shepherded Spring Creek Bible Church for over thirty years and is a 1986 graduate of Prairie Bible Institute. Steve possesses a deep affection for the doctrines of grace, as well as learning how the gospel applies to every facet of life. He strives to preach God's Word in an accurate and applicable manner, and cultivate a cross-generational, family-friendly body of believers. In his free time he enjoys hanging out with his kids and grandkids and doing all thing sports. Click here to learn more about Steve and his ministry.
This year's theme: Family Foundations
Here is what is in store for you…
Sunday morning – "The Ultimate Purpose of Marriage"
A message from Ephesians 5:31-21: God-honoring marriages are rooted in God Himself – not only in theory, but in practice!
Sunday evening – "12 Foundational Heart Principles for Marriage"
As the title suggests, embracing these 12 biblical principles from the heart is the foundation for a God-honoring and happy marriage.
Monday evening – "Practicing the Gospel in Marriage"
Sin is our greatest problem in marriage, and Jesus Christ and the gospel is our only solution. The truth of the gospel embraced in our heart and practiced in the trenches of marriage is essential to cultivate a God-honoring marriage.
Tuesday evening – "Disciplining Children"
This is a basic overview/review of biblical discipline that answers the questions of why, when, and how we should discipline our young children for the glory of God and their good.
Wednesday evening – "Parenting in the Red Zone"
A message designed to encourage and equip parents of teenagers to be appropriately engaged in shepherding their young adults in a balanced and gracious manner. Too many parents disengage with their older kids at a time when they need our love, wisdom, and care the most.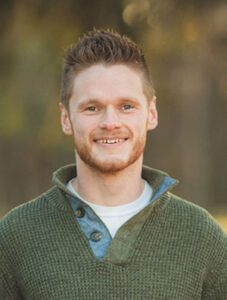 Leading Teen Ministry: Aaron Lichtenwalner
This year's theme: James 1 – Trials and Suffering: Responding Like Jesus When Life is Hard
Aaron is the youth and assistant pastor at Bay City Baptist Church in Green Bay, WI. He received his college education at Northland International University, finishing his last year at Boyce College in 2016. While at Northland, he served during the summers at the Wilds of New England which included speaking at churches around New England. He is currently working on his Masters of Divinity at Southern Baptist Theological Seminary. He and his wife, Meagan, have been married for four years, and their first child, Asa, was born in January of this year. He loves spending time with teens and discuss God's Word with them. When he's not with teens, Aaron can be found either hanging out with friends, playing Ultimate, or enjoying the local coffee shop.
Leading Children's Ministry: John & Diane Windle with Hairy & Company
This year's theme: Strong and Courageous (Stories from Joshua 1-6)
"
Music and puppets! This is just for the kids, right?" Not exactly. John and Diane's unique program offers enjoyment for every member of the family. They combine music, comedy, and teaching that together drive home the truths of scripture.
John and Diane Windle have been leading our Family Bible Week children's ministry for many, many years, and generations have been touched and enjoy coming back for more. John & Diane serve on the staff of Forest Springs Camp & Conference Center in Westboro, Wisconsin, where they spend the summer at camp ministering to young and old alike. During the rest of the year, they travel as an outreach team throughout the Midwest and beyond. Click here to learn more about John & Diane.
Listen to the Family Bible Week adult Sessions from 2019