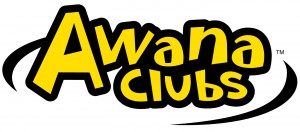 Awana is for children 2 to 18 years old. It is a Bible based children's club designed to reach boys and girls with the Good News about Jesus and to train them to serve Him. Awana is designed as a partnership with parents and guardians to support them as the primary spiritual trainers of their children.
Awana is a ministry of Immanuel Baptist Church that meets on Wednesday nights from 6:30pm to 8:05pm September to May. Our 60 to 70 leaders love Jesus, are well trained and love to serve children. We have a comprehensive child protection policy in place; all of our leaders are required to be part of this program. Parents are always welcome to visit their child's class at any time during the night to see what is happening.
Here's what happens at club:
Handbook Time – Children work with qualified leaders in age-appropriate workbooks that teach Bible verses, doctrine and a biblical worldview. The books are fresh, interesting and full of solid teaching.
Large Group Time – Biblical principles are taught by a variety of adults from our church and community. Clubbers sing fun, interactive songs.
Game Time – Here the children race around the game circle trying to score points by getting a pin or beanbag first. There are fun games like relays, beanbag tossing, "Steal the Bacon", "Sparkie Safari" and many more.
Children are encouraged to invite their friends for a night of excitement, learning about the Bible and hearing the Good News about Jesus.
The 6th through 12th graders meet with the youth group each week with time allowed to continue working through their Awana books. The junior high and high school books are designed for daily personal Bible study and provide a strong foundation in biblical doctrine.
So why come to Awana? Awana is making a difference!