Sunday
Sunday Morning Bible Studies – (9:00a) are an opportunity for teens to grow and mature in their walk with Christ. This time of in-depth study involves discussion and activities that challenge teens to make active Bible study an important part of their lives.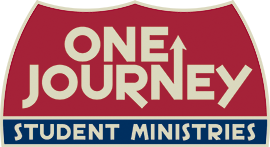 Wednesday
On Wednesday afternoons during the school year, the One Journey Cafe opens at 5:30pm. This is a great place to spend time after school. There are computers available to catch up on some homework, as well as games such as ping-pong and carpet ball. There is always great food and great coffee!
One Journey meets from 6:30pm to 8:05pm on Wednesdays during the school year. Our goal is to encourage teens, knowing they have a crazy life. Teens will worship the Lord with the student-led One Journey Worship Team, look at what the Bible says about our lives today, make connections with other people face-to-face and much more. Wednesdays are exciting at One Journey, and teens won't want to miss these great times of growth and connection. Click here for event calendar.
Opportunities for Teens
Serving Others
We provide many opportunities for teens to serve throughout the year. We have teens serving every week in various ministries! We do larger projects each year that we all work on together. We have raised money to help families in Guinea, Africa, collected food for people in our home town, serve at our local nursing home and helped elderly people in our community to name a few.
One Journey Student Worship Team
The One Journey Student Worship Team is responsible for leading worship on Wednesday evenings, as well as during other special events and some Sunday morning worship times. This team is open to singers, guitarists, keyboardists, and drummers that have a desire to grow in their musical abilities and have hearts to enable our students to worship God. Rehearsals are on Wednesday nights beginning at 5:15pm.
Mission Trips
Teens need a chance to go out into the world and make an impact for Jesus. If we stay in the church and fill our heads with information about what we should do, but never take action, we are not real disciples. We plan annual trips so our leaders can serve alongside teens to show them what it looks like to serve God and others.
Family Bible Week
Held each year in the first part of June, Family Bible Week offers in-depth Bible study with age-appropriate speakers, and great fun and fellowship for the entire family. Click here for more information.